Gentlemen of the Road
Music by J. S. Bach, Thomas Morley, Gustave Samazeuilh, Jost H. Hecker, Uğur Işık,
traditional Bulgarian, Turkish and Armenian music, Ottoman Court compositions and Jazz,
arranged for two Celli & Percussion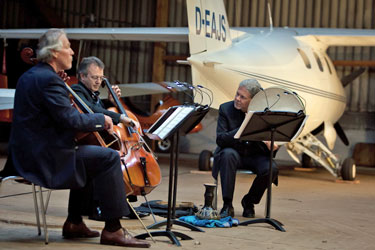 Jost-H. Hecker (Germany): violoncello
Uğur Işık (Turkey): violoncello
Vladimir Ivanoff (Bulgaria/Germany):
frame drums, musical director
«Gentlemen of the Road» is the title of a historical novel published by Michael Chabon in 2007, in which two outlaws
and a fugitive prince discover and prove their unexpected chivalrous virtues on their odyssey into the Khazar kingdom
of the 10th century. but most of all as a path leading humans together. 

Three gentlemen of the 21st century who have been venturing on their own personal world travels across historical periods
and geographical spaces for decades, now meet in this constellation on the musical road from Istanbul to Munich,
on the crossroads between Turkish and Western classical music, traditional repertoire, Avantgarde and Jazz.

All three of them have a musical homeland, and all three of them are constantly led by their spirit of musical adventure to
new continents of styles and expressions. They offer each other pieces, which have been crucial in their respective lives
or their musical development. How their road companions handle them - with gallant virtue, resentment or boredom -,
always remains to be seen and heard.
download dossier
Reviews
«With their music, the ensemble abducted the audience into sound worlds strange and familiar from Orient and Occident.
… The final applause proved that the journey through time was a great experience.» Katja Lepperhoff,
Kölner Stadtanzeiger (Germany), 06.06.2012
«A very special concert … in a perfect setting, the audience enjoyed the extraordinary concert experience.»
om, Oberberg-Aktuell.de (Germany), 02.06.2012